In This Issue
| | |
| --- | --- |
| • | Milestone Places $1.75B Helicopter Order at Heli-Expo |
| • | Cessna Rolls Out First New Citation Sovereign |
| • | Charter Demand Up in Europe, Down in North America |
| • | First GE Passport Engine Travels Down Assembly Line |
| • | Top Justice Officials Toed Rules on Private Use of Jets |
---
Also Noted...
Today at Heli-Expo, Enstrom Helicopter announced that it selected the Garmin G1000H integrated digital flight deck for its Rolls-Royce 250-powered 480B. The Garmin panel integrates all primary flight information, navigation data, communications, terrain awareness, traffic, weather, and engine parameters on two 10.4-inch displays. It also incorporates a large moving map and supports a wide array of safety enhancing features, including synthetic vision, helicopter Taws, datalink weather and traffic awareness and collision avoidance system, among others. The helicopter is used for a variety of missions, including law enforcement, news gathering, private ownership and flight training.

The wide-cabin Gulfstream G650 racked up yet another city-pair speed record, flying the 6,329-nm trip between Melbourne, Fla., and Abu Dhabi, UAE, in 13 hours and 5 minutes nonstop. It cruised at an average speed of Mach 0.87, carrying five crew and two passengers. Once verified by the U.S. National Aeronautic Association, the record will be the flagship aircraft's sixth city-pair milestone this year.




Honeywell's latest iteration of its Iridium satellite-based communication and aircraft tracking product, Sky Connect Tracker III, has been joined with its Zing health and usage monitoring system (HUMS) to create an integrated system that can now also send alerts of potential maintenance problems back to base. The communication part of Sky Connect Tracker III provides concurrent voice and text, along with flight tracking. The system uses the Iridium satellite network, meaning it works where Iridium is available, which is anywhere in the world.

Execaire parent company IMP Group acquired Toronto, Ontario-based Image Air Charter. Image Air, which has about 60 employees, manages a fleet of 20 business airplanes and specializes in executive travel via its air charter and aircraft management services. With the acquisition, Execaire will now serve clients with more than 290 employees and a managed fleet of 53 business jets.

Atlanta-based in-flight caterer Tastefully Yours launched a range of short-flight catering boxes, as the company sees a shift away from menus offering heavy meals with larger portion sizes to lighter fare and smaller servings that require no onboard preparation or reheating. Each menu choice has been planned to consider the increased number of requests for low-fat, low-salt and low-cholesterol diets. The light-fare catering boxes are available with breakfast, lunch and dinner menu items.

AINalerts welcomes your feedback
News tips may be sent anonymously but feedback must include your name, e-mail address and telephone number. We will withhold names on request, but we must have your contact information for verification purposes. We reserve the right to edit correspondence for length, clarity and grammar. Send feedback or news tips to Chad Trautvetter.

Milestone Places $1.75B Helicopter Order at Heli-Expo
Global helicopter lessor Milestone Aviation Group of Dublin, Ireland, placed orders for up to 74 helicopters from Eurocopter and Sikorsky worth more than $1.75 billion today at Heli-Expo 2013, which opened this morning in Las Vegas. These additional helicopters will double the assets at Milestone. The Eurocopter deal announced this morning is for up to 15 EC225 Super Pumas and five EC175s, contracts worth as much as $540 million. This valuation is based on a price of about $29 million each for the EC225s and $18.2 million each for the EC175s. Milestone will start taking deliveries of the EC225s this year, but it won't begin receiving EC175s until 2016. It will also be taking shipments this year for an order for 16 EC225s that it placed last year at Heli-Expo. But the Sikorsky order–valued at about $1.2 billion, including options–announced this afternoon was the big prize. This deal is for 23 Sikorsky S-92 heavy twins and seven S-76Ds worth $667 million, as well as options for 14 more S-92s and 10 S-76Ds worth $546 million. Deliveries of S-92s and S-76Ds to Milestone are expected to start this year and continue through 2017, Sikorsky said. Founded in 2010, Milestone currently has more than 79 helicopters, valued at more than $1 billion, leased to various operators throughout the world.
---
---
Cessna Rolls Out First New Citation Sovereign
Cessna Aircraft rolled out the first New Citation Sovereign yesterday from its Wichita manufacturing facility. Announced in October at the NBAA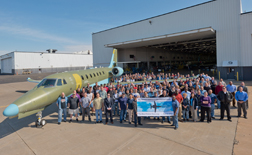 Convention, the upgraded Sovereign features improved cabin cooling, Garmin G5000 avionics with autothrottles, a new cabin management system and winglets. "This rollout is proof of Cessna's commitment to bringing new products to customers in 2013, and demonstrates our strong investment in the future," said Kelly Reich, business leader for the New Citation Sovereign. "It's a short turn-around from just announcing this program last fall, to already having an aircraft rolling out the door and headed to the next stages of completion." The newest Citation will have a range of 3,000 nm and will be able to perform direct climbs to 45,000 feet, thanks to the new winglets. This compares to the 2,847-nm range and 43,000-foot direct climb capability of the original Sovereign, which entered service in 2004 and is outfitted with Honeywell Primus Epic avionics. Top speed remains the same, at 458 knots. Type certification and entry into service for the New Citation Sovereign is slated for the third quarter.
---
---
Charter Demand Up in Europe, Down in North America
The latest data from online charter portal Avinode shows a contrasting picture of demand fluctuations on either side of the Atlantic Ocean. Its forward-looking demand indices for March 4 shows demand in Europe picking up significantly in the light, midsize and heavy jet categories tracked, with the biggest increase being in the midsize segment where the index rose by almost 67 points month-over-month, to 184.6. Compared with a year ago, demand for all three groups of aircraft was also up by between around 20 and 40 points. But in the North American charter market over the same period, projected demand over the next 30 days fell in all three groups, with the steepest fall being among heavy jets, for which the index dropped 36 points to 107. Demand was also down across the board compared with last year, but, with the exception of heavy jets, to a lesser degree. As is often the case with Avinode's data, fluctuations in the pricing indices were far less pronounced over both the last month and the since the same period last year. In both Europe and North America, projected pricing levels barely moved in all categories of aircraft tracked.
---
---
First GE Passport Engine Travels Down Assembly Line
GE Aviation has started assembling the first Passport development engine for the Bombardier Global 7000 and Global 8000, the company announced yesterday. Testing of the 16,500-pound-thrust turbofan is scheduled to begin in the second quarter. According to GE, Passport will incorporate several new technologies and materials, including a lower-weight composite fan case and a 52-inch front fan blisk that will lower cabin noise and vibration. Additionally, it will borrow technologies from GE's eCore suite to lower emissions and improve fuel efficiency. When combined, these improvements will result in up to 11-percent lower specific fuel consumption than other engines in its class and a margin to both CAEP/6 emissions and Stage 4 noise regulations. The Passport's integrated propulsion system from GE/Safran joint venture company Nexcelle will feature a slim-line nacelle with outward opening cowl to reduce weight and drag. In addition, it will allow easy maintenance access. Since launching the engine in 2010, GE has conducted various validation tests on the fan blisk design, including two fan blade-out rig tests, ingestion tests and a rig test to demonstrate fan efficiency. This testing was completed on two eCore demonstrators, which accumulated 150 hours. GE said another eCore demonstrator will run later this year.
---
---
Top Justice Officials Toed Line on Private Use of Jets
A performance audit conducted from March 2012 through February 2013 by the Government Accountability Office (GAO) has found that the U.S. Attorneys General (AGs) and the FBI director reimbursed the federal government for their personal travel in government aircraft in accordance with federal requirements. The study was requested by Sen. Chuck Grassley (R-Iowa), ranking member on the Senate Judiciary Committee, and Rep. Jim Sensenbrenner (R-Wis.), chairman of the House subcommittee on crime, terrorism, homeland security and investigations. Under federal rules, all AGs and FBI directors are "required use" travelers, who are compelled by executive branch policy to use government aircraft for all their travel, including travel for personal reasons, because of security and communications needs. However, according to Department of Justice (DOJ) officials, while the AG has historically been required to use government aircraft for all types of travel, including personal travel, the FBI director had, until 2011, the discretion to use commercial air service for his personal travel. From Fiscal Years 2007 through 2011, the GAO said the AGs and the FBI director accounted for 95 percent (659 out of 697 flights) of all DOJ executive flights using DOJ aircraft at a total cost of $11.4 million. According to the GAO, 74 percent of these 659 flights were for business purposes; 24 percent were for personal reasons; and 2 percent were for both business and personal reasons.
---
---
AINalerts is a publication of The Convention News Co., Inc., 214 Franklin Avenue, Midland Park, NJ 07432. Copyright 2013. All rights reserved. Reproduction in whole or in part without permission from The Convention News Co., Inc., is strictly prohibited. The Convention News Co., Inc., publishes Aviation International News, AINalerts, AIN Defense Perspective, AIN Air Transport Perspective, AINmxReports, AINsafety, Business Jet Traveler, BJTwaypoints, ABACE Convention News, Dubai Airshow News, EBACE Convention News, Farnborough Airshow News, HAI Convention News, MEBA Convention News, NBAA Convention News, Paris Airshow News, Singapore Airshow News, iPhone Apps: AINonline • BJTonline
---